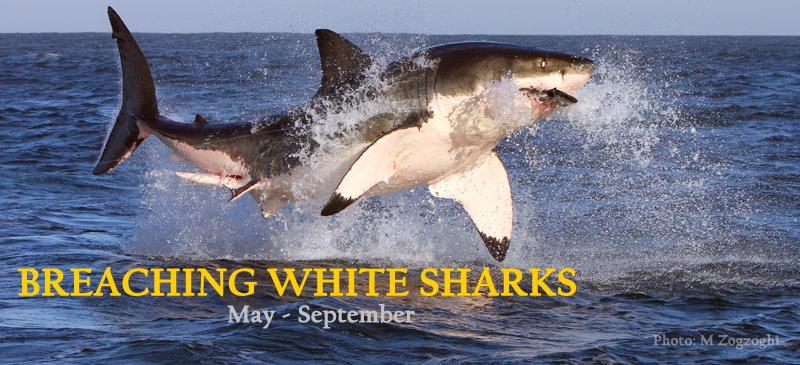 Breaching Great White Sharks in False Bay, South Africa
Rarely seen elsewhere in the world, the behavior of white sharks (Carcharodon carcharias) breaching out of the water in pursuit of their prey, the Cape fur seal (Arctocephalus pusillus), is an impressive sight. It is a show that each year draws a large number of people from around the world to False Bay and Seal Island. The white sharks are most abundant around Seal Island during the cooler months when they prey on the young of the year Cape fur seals. The population of seals at the island is at times some 64 000 strong. As the seals leave early in the morning for the fishing grounds miles away offshore the white sharks are present to hunt them when they enter the water. The shark population within False Bay consists of the highest ratio of large white sharks of the areas studied in South Africa. So much so that it is a favored destination for viewing the predatory behavior and social interactions of white sharks and the seals.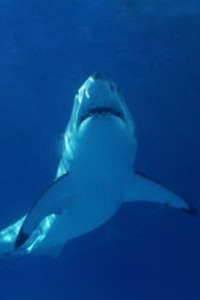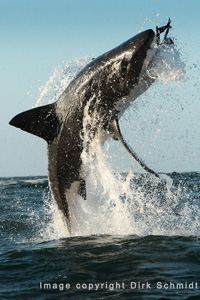 Description
Cost:
Option 1
Private charter. We use a RIB to get to the action the fastest way. USD 720 (R8300). Max 10 passengers.
Option 2
Make this a combined predation trip and a shark cage diving experience. We first arrive to look at the white sharks hunting seals and then lower the cage from the shark cage diving boat into the water and get a closer look at them from there.
May (mid season): USD 200 (R1850) per person.
June - September: (peak season): USD 250 (R2400) per person.
Hotel transfer: 1 person return: USD 60 (R600). 2-5 person return: USD 45 (R500) per person.
This is a day trip where we launch in the morning while it is still dark in order to get to the site in time for the action. A short ride by boat takes us to Seal Island and there we wait for the light to arrive and the predation to start.
If you have your camera ready and remain very alert, you might just be lucky enough to get that fantastic shot of the shark as it launches itself out of the ocean and into the air. In any case it is a live theatre of natural wonder being performed in front of us as the seals are being ambushed by sharks. Small groups on the boat provide an unobstructed view of the spectacle and snacks and refreshments are provided onboard.
Another species often encountered on this particular marine excursion during the cooler months and spring is the southern right whale (Eubalena australis) as well as a variety of seabirds.
For this trip it is strongly recommended that you dress warm and bring water proof clothing (rain/wind jacket and beanie), and if you are prone to seasickness you might also want to take precautions.
© 2011 - 2021 Educational Shark Safaris cc. All rights reserved.