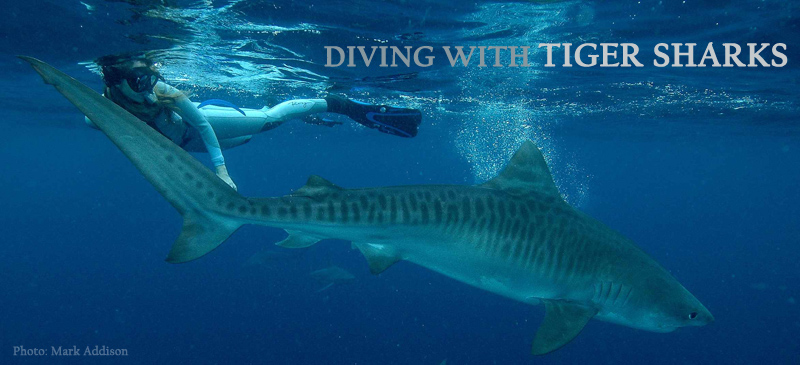 Diving With Tiger Sharks
Price starting at USD 1,150 (R13050) based on minimum number of participants.

Price includes:
All airport transfers.
All accommodation with breakfast.
Marine excursion to Aliwal Shoal.
Instructor's undivided attention.
Two days of phenomenal tiger shark diving.
Two fascinating lectures on tiger sharks.
All necessary dive gear.
NB: Please enquire about trip extension.
Prerequisite: At least an entry-level diving certificate.

© 2011 - 2021 Educational Shark Safaris cc. All rights reserved.
Cost
Day 1:Arrive in Durban (South Africa)
A representative will meet you at Durban International Airport. Transfer to Umkomaas and settle in at a four-star guest house (B&B, pool, bar). Academic session in the evening with a lecture on general shark diving techniques, introduction to tiger shark biology and other relevant species often encountered in this area.
Day 2: Diving with the tiger shark
We meet at the centre in the morning, receive a briefing about the dive and launch the boat from Rocky Bay. About four nautical miles out to sea lies Aliwal Shoals, a marine protected area, where we do a surface drift dive, either freediving or on scuba. In the afternoon we return to shore and debrief the dive, shower and go back to Umkomaas and the guest house. Another evening lecture on the tiger sharks and other shark species we encountered on our dive. In this session we go deeper into the subject on tiger shark biology, focusing specifically on behavior, shark research, and conservation issues. A tasty dinner completes the day.
Day 3: Diving with the tiger shark
Our appetite strongly wetted from yesterday's diving, we return to Aliwal Shoal for another exciting drift dive with the sharks. Same modus operandi as the previous day with regards to time and place, but no two dives with the tiger sharks are ever the same. In addition to the tiger shark, keep your eyes open for the other shark species on this dive.

The dives:
Temperature: 18 - 28 degrees Celsius. 5 mm wetsuit is recommended (also availalble to rent).
Water visibility varies from 5 m (15ft) to 30 m (100 ft) with an average of 15 m (50ft).
The dive is a drift dive with a typical maximum depth of 10 m (30 ft).
Seasonality: While the species is present most of the year the best time to view is from December to June.
Itinerary / Description of Tiger Shark Course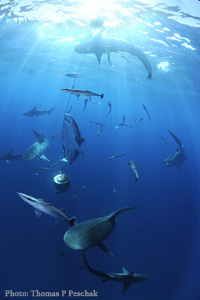 Tiger shark:
Galeocerdo cuvier,
large in size and with a voracious appetite makes a formidable predator in the ocean, instilling respect in anyone encountering the tiger shark, and it astonishes researchers acquiring an improved understanding of the species. While its ill-repute typically used to surpass the facts of its true nature, swimming freely with the tiger shark at Aliwal Shoal in South Africa is a pleasant and exciting, guaranteed thrilling, yet above all a fascinating experience of its own kind. Considered by some to be the ultimate opportunist, the tiger shark displays an impressive variation in diet and there is possibly very little that the species will not eat, judging by the many odd items retrieved from stomachs of tiger sharks.
Over a minimum of three days we learn about the tiger shark from an avid biologist specializing in sharks. We get down to the scientific facts and findings from research carried out on the species over the last decades while enjoying a personal acquaintance with one the largest predators found in the ocean.
You can also join single tiger shark dives at USD 150 (R1500) per dive which includes:
• All gear
• Snacks on the boat
• Warm shower and towel afterwards
• Lunch at the dive centre
• DVD of yourself with the sharks