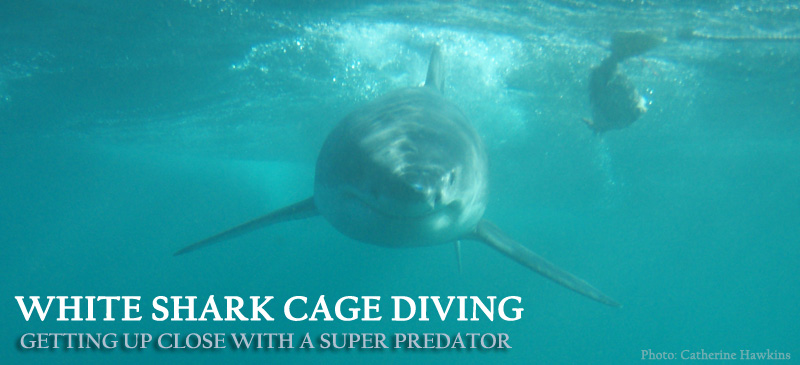 Best viewed from the inside of a protective cage, the great white shark can be experienced close-up even by non-divers on a daytrip at sea. This will be the absolute highlight of your adventurous trip to South Africa.
This wide-ranging shark is indeed one of the most powerful predators on earth. It is intelligent and inquisitive with a remarkably complex social behavior, something we learn on our educational boat trip. We provide an incredible encounter with the white shark, which is wrapped in an inclusive package to make it a guaranteed memorable safari experience.
Depending on the season, weather forecasts and great white shark sighting reports the location for optimal cage diving will vary. False Bay near Cape Town and Dyer Island near Gans Bay, are both renowned for their large population of great white sharks, thereby presenting you with the greatest chances of successful great white shark cage diving available.
All great white shark cage diving follow strict ethical standards and has a very strong focus on conservation.
Whether you decide to partake in our White Shark Awareness Distinctive Specialty Diver course or just want join us for a day of viewing, we promise you an extraordinary experience.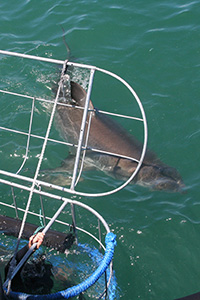 Depending on where you will be staying during your holiday in the Cape Town area, we can arrange to collect you early in the morning and the transfer to the harbor where the shark cage boat is launched from*. Breakfast is provided while the briefing and lecture on great white sharks takes place. We will then don lifejackets and foul-weather gear. Then a short boat ride takes us to the island where we throw anchor and deploy the spacious shark cage into the water.
Note: the shark cage is tethered to the boat and as such no diving skills are required to view the sharks. All dive gear needed for the experience is provided and there is plenty of time for everyone to spend some exciting moments in the large shark cage when the curious great white sharks arrive. If you choose not to get into the shark cage your great white shark viewing experience will still be fantastic as you will see just as much from the boat without getting wet.
A marine biologist on board ensures your day at sea is as informative as it is exciting and unforgettable.
Optionally you might also wish to purchase the DVD that our professional underwater videographer records of your great white shark cage diving experience.
There is no age restriction applicable to take part in the shark viewing experience except for the shark cage dive itself where the age limit is 12.
Skilled staff onboard the boat does its best to attract the great white sharks by means of creating a small spoor of blood on the surface or a decoy. At no stage are the sharks being fed.
The vessels used take from 8 to 40 people and have toilet on board. The larger boat even has an upper deck which provides a great vantage point for viewing the great white sharks as they approach the boat. All boats and skippers conform to strict safety rules set by the South African Maritime Safety Authority.
What to bring with you: Sunscreen Warm clothes and windbreaker Camera Swimwear Seasickness tablets if you are prone to motion sickness A hat or cap Sunglasses
© 2011 - 2021 Educational Shark Safaris cc. All rights reserved.
From R2250 pp depending on season.
Price includes:

Breakfast and briefing.
Soft drinks, towels and snacks on boat.
All gear needed for the great white shark cage diving.
Light lunch on arrival back from the sea.
A day of phenomenal shark cage diving.
*Transfers from Cape Town to launch site can be arranged for an additional R600 pp.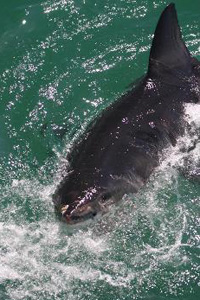 Description
Great white shark cage diving
Cost